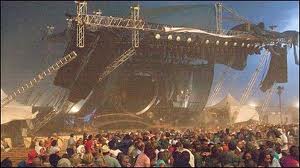 This morning four people are dead and more than 40 people are injured following the collapse of the State Fair stage at last night's Sugarland concert.  High winds that came through the area last night were responsible.
There isn't much to comment on this politically, but it is a reminder about how tragedies can happen quickly and we should never take any day for granted.  It is also a reminder about how dedicated public safety employees are, police, fire rescue, etc.
If you have time, take a few moments and reflect on what is really important in this world.  You will be surprised at what you remember.