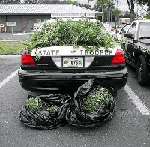 IMPD and city officials say expect some changes in the way the department does some of its business in the wake of the arrests and subsequent indictments of three IMPD officers from allegedly engaging in a conspiracy to engage in drug trafficking and conspiracy.
Officers Robert Long, Jason Edwards and James Davis along with Kabec Higgins, a civilian, are charged with marijuana trafficking, possession of a firearm, executing a bogus search warrant, just to name a few.
According to the Justice Department's complaint the Officers allegedly intercepted marijuana shipments and distributed it on the street.
The FBI was tipped off by other IMPD officers.
IMPD Chief Mike Spears says the officers violated the trust of the public and the department.
In addition, Spears says the department will look into making changes such as implementing random polygraph tests for officers working in narcotics. Prior to the merger, IPD did use polygraphs however the Sheriff's Department did not.
A decision was made three months prior to consolidation to discontinuing polygraph tests for officers in narcotics.
FOP 86 President Bill Owensby says the union tends to oppose polygraphs because they are not admissible in court and they are not reliable. However, Owensby says the union is willing to work with IMPD on the issue to make sure any questions that are asked are phrased properly.
Spears says IMPD may also look at tightening up controls on evidence gathering.
Although this news puts a black eye on law enforcement in Indianapolis, it also shows the fact that it was officers who helped report the wrongdoing of their colleagues and "crossed the blue line" to turn in wrongdoers.
Unfortunately, it doesn't take much for an incident like this to harm the reputation of hundreds of men and women who put their lives on the line everyday for the rest of us, because it feeds into the worst charges that are levied against officers by those who have no love or respect for the law.
And while I firmly believe everyone is innocent until proven guilty, if these guys are found guilty beyond a reasonable doubt, they shouldn't see the light of day for a very long time.