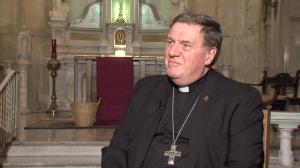 On this Easter weekend, Indianapolis This Week sits down for an exclusive interview with Archbishop Joseph Tobin of the Catholic Archdiocese of Indianapolis.
The Archbishop talks about faith, tough decisions ahead on closing parishes, and the canonization this week of Pope John Paul II.
It airs Sunday morning at 8:30 on RTV 6, with a repeat broadcast at Noon.