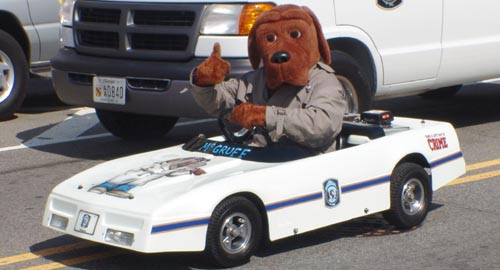 A Marion County Sheriff's affiliated with the McGruff the Crime Dog program has been charged with felony theft, burglary and possession of a controlled substance for reportedly breaking into a friend's home to steal prescription pain killers.
According to the probable cause affidavit released by the Marion County Prosecutor's Office Douglas Tibbs  broke into the home of Arden Redding in the 900 Block of Brevard Drive and stole Redding's Hydrocodone.
Redding told police she noticed several of her drugs missing after a function that Tibbs attended.  She says she set her camera phone near the drugs on a later visit by Tibbs and recorded him taking the Hydrocodone.
Police also say Tibbs broke into the Redding's home on two occasions to steal drugs as well.
Tibbs reportedly has already resigned from the department.  This is not the first rime a sheriff's department employee associated with the McGruff program has gotten in trouble.  In July 2010, 59-year old Richard Rawley was charged with driving a vehicle while intoxicated after his pick-up truck struck an IMPD Officer.  Rawley's job was to coordinate McGruff visits to community events.
A copy of the affidavit can be found here.